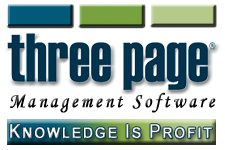 For years we have been helping business owners achieve their goals, communicate to their employees and manage their business by the numbers. The results speak for themselves. See below to see what our clients have to say".  
–Ron Haugen, Founder, Three Page

We used the weekly tracker meetings to help build a far more productive team of motivated employees. Once we had the new team in place, we finished the quarter 7% above our forecast."

Sander and Lana Nassan, Owners Prosthetic Orthotic Associates Scottsdale, AZ
,

I See Big Numbers on the bottom line [after Three Page], a Difference I Never thought would show up at THIS level!"                        

Kurt Croell, President Croell RediMix New Hampton, Iowa
,

It made me a better manager. It made the communication better. It makes everyone accountable, and actually, the people really like it. The employees like it because they know where they're at. Nobody wants to work at a place that is losing money."

Chuck Holland, Owner Holland Contracting Co. Forest City, Iowa
,

Find out how a former soap opera actress from "Days of Our Lives" ended up as a Main Street Business Owner, and credits Three Page with helping her survive her first year in business!

Julie Keeley, Owner Scoopy Dos Forest City, IA
,

The first year alone in using Three Page, we saw an increase of 20+% in revenues, and over 100% increase in profits!" Our growth from a Mom and Pop accounting firm to one with over 5 locations is due to Three Page."     

Dave Arndt, CPA D K Arndt PC Forest City, IA
,
Check out our latest blogs:
We live in a society of immediate gratification. The desire to want "results now" may work in our personal lives but that desire can hurt us in the business world. Business is delicate
Read More...